California King Snake in San Diego County…found trying to enter our garage. My husband transported this beautiful snake down the road to an oak covered creek bed. A much safer place for the snake, away from our many dogs and hawks. You want King snakes around, they will eat Rattle snakes.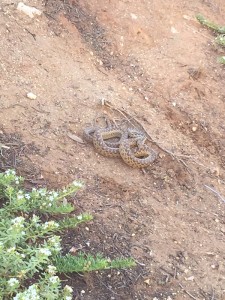 King snakes are powerful constrictors and generally kill their prey through suffocation. Their diet includes rodents, other reptiles, birds, and amphibians. The "king" in their name refers to their ability to consume other snakes, including venomous rattlesnakes. They have a natural resistance to the rattlesnakes venom, but not totally immune.
It has been a busier than usual snake season for us this year. Just a few weeks ago we moved a very angry Gopher Snake from our backyard. Their hissing can sound just like a Rattlesnake when angered. Our Rottie had her nose over the snake…lucky girl!
Californiaherps.com has great pictures of commonly encountered California snakes. When I was searching for images to help identify this Gopher snake, several Garter snake pictures looked similar, but this website clearly shows the difference.
I'm starting to wonder if installing this small pond for our local ground toad population was such a good idea. Snakes love ground Toads. Providing a wildlife habitat in your yard does have it's drawbacks!
Resources
American Hiking Society– Avoiding Snake Bites
Wikipedia – California King Snake