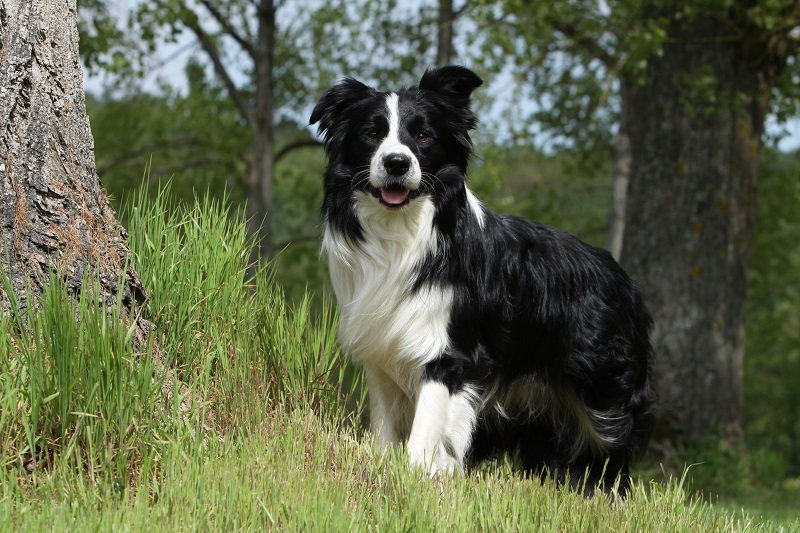 The Border Collie is often mistaken for the Australian Shepherd or vice-verse. We were commonly asked if our male black and white Aussie was a Border Collie. But their intense "eye" or the way they use their stare to control livestock is unique to the breed. Whereas the Australian Shepherd will nip or bite the heels to move the livestock.
You can spot a few noticeable differences between the Border Collie and the Australian Shepherd. Border Collies ears are positioned higher-up on their head and they have a long flowing tail. The males are said to be slightly smaller than their Australian Shepherd counterpart, but the females are about the same size.
History
Border Collies have a long history with shepherds in the border country between England and Scotland. This dog was specifically bred for intelligence and obedience.
Working dog enthusiasts oppose the use of Border Collies as show dogs. They fear that breeding for appearance will lead to a decline in the breed's working traits.
Look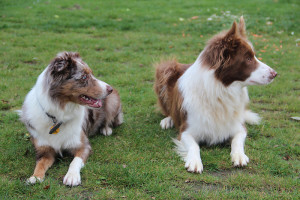 The most common or familiar color for the Border Collie is black and white, but they do appear in many different eye and coat color variations.
From The AKC:
"The Border Collie is a well-balanced, medium-sized dog of athletic appearance, displaying style and agility in equal measure with soundness and strength. Their hard, muscular body conveys the impression of effortless movement and endless endurance.
The Border Collie is extremely intelligent, with a keen, alert expression being a very important characteristic of the breed." They are also a double-coated breed which means weekly grooming to keep them looking pretty.
Personality
The Border Collie is a high-energy dog that requires lots of exercise, well beyond just a walk around the block. Having a job to perform, like agility or herding makes for a much happier dog and owner. They are affectionate with people they know, but may be reserved with strangers.
Wikipedia states that "One of the prime reasons for getting rid of a Border Collie is their unsuitability for families with small children, cats, and other dogs, due to their strong desire to herd.
Our Australian Shepherd exhibited this herding behavior, but I knew what to expect and was prepared to deal with it. Herding dogs love to herd anything and this can mean nipping at your feet/toes when you're wearing sandals…ouch.
Personally, I think the term "unsuitability" is incorrect for this breed. You need to be fully knowledgeable about any breed of dog you're considering. Then be prepared to accept their nature for life.
Resources