The Great Dane dog will make your head turn. Their size and demeanor are grandly unique. The Great Dane breed is often referred to as a "gentle giant" and this is 99% accurate.
My earliest and most traumatic dog memory as a child is of the Great Dane. The short story is I saw a neighbors Great Dane viciously attack our family dogs. Not a good memory of a normally gentle dog and it didn't affect my love and appreciation for them or any other dog who may have ignorant owners.
History
Dogs resembling the Great Dane have been seen on Egyptian monuments dating back to 3,000 BC. The Great Dane was developed as a Boar Hound by the Germans.
The AKC writes –
The Great Dane had a half-dozen names used for centuries in France, including dogue allemand ("German Mastiff"); "Mastiff" in English, dogue or dogo in the Latin languages, and dogge in the Germanic languages all meant the same thing: a giant dog with heavy head for fighting or hunting purposes.
Look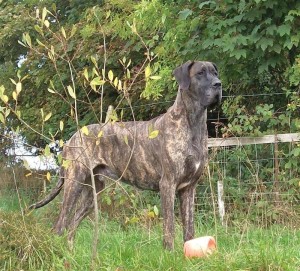 The Great Dane has a "majesty possessed by no other breed" (The AKC). They are one of the world's tallest dog breeds with short hair and a strong galloping body.
The average weight for a Great Dane over 18 months is 120 lbs. for males and 100 lbs. for females. Coat colors can be fawn, brindle (pictured on right), black, "Harlequin" (white with black patches) and blue (steel-blue).
Personality
The Great Dane is usually friendly, patient and dependable. They are a very gentle and loving dog with the proper care and training. "However, if not properly socialized a Great Dane may become fearful or aggressive towards new stimuli, such as strangers and new environments."
The above statement applies to any breed of dog. Our neighbors dog was the "however" dog and from that lesson I learned to always get to know our neighborhood dogs.
Resources