Our Turf Removal Project 2015 was made possible by the Turf Removal Program for Southern California. We submitted Part 1 of the 2 part application process before the May 12th 2015 changes and now it appears only local water agencies might still have some funding remaining.
The SoCal WaterSmart website currently states "turf removal incentives are no longer being offered region-wide in Metropolitan's service area because funding has been exhausted. Local turf removal rebates might be available in some areas. Please click on "Estimate Your Rebate" to find out if your local water agency is still offering turf removal incentives."
"A wait-list has been created for those of you who wish to standby should funds become available in the Fall. To join the wait-list, please proceed with submitting your complete application and agreeing to the terms and conditions online. If funding becomes available in the Fall, customers will be selected from the wait-list on a first come first serve basis."
3 Steps to Getting Started
Submit your approval application asap! Then spend the next 8 weeks you have to wait for an approval to start the project by researching design ideas and plant options.
If we weren't approved or funding wasn't available, we still would have removed our sod and slowly planted a wildlife habitat. The rebate just allowed us to do it more quickly. Our summer 2015 water bills have shown an average monthly savings of over $90…nice!
Step 1- Application
I submitted our online application for part 1 of SoCalWaterSmart Turf Removal Program, called a Reservation, on May 6, 2015. This process required the actual square footage of turf being removed and several photos of the area. They have thorough guidelines to follow and examples of how they want the pictures taken.
We received approval to start our project on July 3, 2015. Their website information and the 2 phone calls I made after weeks 4 and 6, stated that I would receive an approval letter by email. I chose to log-in every day to check the application status and that's how I found out we were approved. A link showed up in my account that took me to our approval letter. I never received the "email".
Our "Part 1 Turf Reservation Application" approval letter stated that we Must Complete and Submit Part 2: Turf rebate application, with "photos of your completed project and other basic information by October 28th, 2015" (120 days). The letter also stated terms and conditions that must be met, the amount approved and several disclaimers.
Step 2- Design and Plant Research
While waiting for our approval, I researched landscape designs and local plant nurseries for ideas. Deciding that Xeriscape was just too desert looking for our location, we still needed drought tolerant plants. Native plants sounded desirable because they can be planted without adding soil amendments and most are bird, butterfly and Bee friendly.
I spent hours researching plants, but found that many of the plants listed were not available, or they were not currently growing them. So don't get too attached to your 1st selection, you may have to move on to your 2nd and 3rd choice.
Did you know that California Native plants don't like drip irrigation. They say the use of overhead sprinklers the first year, for root establishment, is best. Also, watering established native plants in the summer is unhealthy for the plant, it's their dormant period…who knew!
The most enjoyable and informative information I found for creating a wildlife habitat in our front yard came from a book titled The California Wildlife Habitat Garden by Nancy Bauer. I liked her writing style, photos, great appendices and a wonderful resource section. She writes a variety of " garden profiles" that include plant names and their benefits to our wildlife. It really helped me focus on plants specific to benefiting wildlife.
Step 3- Sod Removal
We rented a sod cutter from the Tool Shed in Escondido for the long 4th of July weekend. It took us 3 days to cut, roll and move 1500 sq. ft. of tall fescue sod to our disposal area.
Once all the sod was removed it became much easier to envision something new and different. With paver walkways already running through the yard, it conveniently created 4 separate sections to design and plant.
The old sod will be composted by unrolling and stacking into 4 foot piles, watering each section and covering with black plastic.
Design Goals List
Having a list of criteria that your plants and landscape design must meet will help you stay focused and on track. I have included my list of preferences below just to give you some ideas.
Create a Wildlife Habitat using California Native plants
Drought Tolerant
Frost Tolerant
Fast Growing
Resistant to Gophers and Squirrels
Provide some Shade
Prevent/Control Soil Erosion
Our Project Details
The following is a break down of our 4 landscaped sections, totaling 1500 sq. ft. I've included images of our plant selections and here is a link to our final project costs page in pdf format.
All our plants were purchased from local nurseries in the smallest sizes available. Digging 25 smaller holes that use less soil amendment, helped to keep down the total cost and labor of the project.
Section 1 (NE)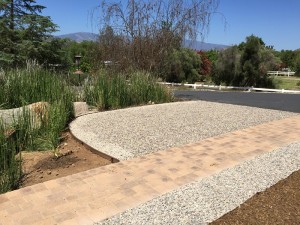 Section 1, next to our driveway, was a natural location for adding a gravel parking pad/turn around area. It measured a perfect 12' x 22'. The weed barrier cloth took me 2 hours to lay and stake.
We then had 2 yards of Carroll Canyon Gravel dumped right on the site and took 2 people only 1 hour to distribute and level the gravel.
Supplies Used
DeWitt Pro5 Weed Barrier Cloth measuring 5' x 250' and Landscape Fabric Pins measuring 10" long. Both products were ordered from Amazon. We re-used some old Home Depot composite border edging with new 10" stakes from Amazon that ended up being too small for this 3/4″ thick border.
We shopped a local aggregate supply company for the crushed rock. The price per yard was $45 plus a delivery fee was $65, which was well worth it to us. Total cost, with tax, $162.20.
Section 2 (SE)
Section 2 was our largest area to design and the best location for a small shade tree. The 2 trees we currently have in the front yard are drought stressed White Birch that don't look like they'll survive much longer. They also didn't like having their roots disturbed when we removed the sod!
Our 3 tier fountain is close by which meant either planting an evergreen tree, which would get too big for the area, or going for a smaller drought tolerant native species.
I chose a Desert Willow that's in training to be a tree and the hummingbirds already love the tulip shaped, fuchsia colored flowers.
The next consideration was shrubs. Not too large, flowers for the wildlife and to add some color. They had to be evergreen and frost and drought tolerant. Sage seemed to be the best option for us, plus another variety is growing very well elsewhere on our property.
I chose Texas Sage for its lovely pink flowers, size and quick growth (another preference when choosing a small transplant size).
Sprinkled through-out is Yellow Yarrow, Yellow Monkey bush and 2 Smart Pots soft-sided planters. One 15 gallon that holds a 'Wonderful' Pomegranate Tree and the other is their Smart Pot Big Bag Bed for wildflowers and/or whatever else doesn't fit in my raised garden beds.
I first planted organic watermelon seeds that sprouted quickly but the birds ate them before I could cover with netting. So I re-planted with watermelon and strawberry seedlings and added bird netting over wire mesh.
Section 3 (NW)
Section 3 has an existing small pond for our frogs and mosquito fish, prolific Horsetail Fern and receives afternoon shade from the barn.
A word of warning about Horsetail Fern. It has 2′ deep runners that are nearly impossible to stop. Any amount of water continues their spread into lawns, asphalt, arenas, etc!
I love the look of tall planters and the barns pillar needed some visual distraction. The paver walkway leading to the breezeway was an ideal area for adding 2 tall planters with Korean Feather Grass for added height and color.
I chose a different variety of sage because of the shade requirement and more variety. Russian Sage can handle a little less sun than Texas Sage, is softer and airier and has lovely lavender blooms. The size of this area called for 3 plants because the growth of Russian Sage is 3-4′ tall and wide.
The smallest leg of this area is where I planted 3 Narrow-leafed milkweed in hopes of attracting Monarch Butterflies.
Milkweed is the only plant that these beautiful butterflies will lay their eggs.
I purchased a Washington Navel before knowing where it'll go…I just had to have an orange tree!
As you can see, there was only one spot in this section that would accommodate a full-sized citrus tree. Both citrus trees had to be immediately protected from the squirrels with a ring of 3′ wire mesh!
Section 4 (SW)
Section 4 is our smallest area and the most visible from the office and master bedroom windows.
We wanted plants and a water feature that would attract the birds for our viewing pleasure.
I continued the row of Russian Sage from the NW section by adding the same number of plants (3).
For balance, I planted a dwarf Meyer Lemon, yum, directly south of the Washington Navel. You sometimes have to break the rule of three's, especially when there's no room.
The skinny area was perfect for another solar bird bath, one 'Buzz' Blue Butterfly bush and one more Monkey Flower bush. I think I'll add more flowers, maybe some annuals next year.
I'm struggling a bit with the Sticky Monkey Flowers finicky watering needs. I first thought it wasn't blooming because of under-watering, it's a native plant. Then I gave it more water, after considering it's newly planted status and 100 degree weather, but now it looks less happy…?
Now Apply for Rebate
After project completion, you must then submit your "Residential Turf Removal Program application" (part 2), along with 6 or more photos of the completed project. They will notify you by email when/if your rebate application has been approved. The confirmation email stated that it could take up to 6 weeks for approval, we received our approval in one week.
The "Turf Rebate Application" approval email stated that our "rebate check should arrive in up to 10 weeks." We received it in just 4 weeks. I can't be happier with their quick approval and payment!
Final Thoughts
Irrigation
Converting pop-up sprinklers to drip may not have been our best choice. I still have water pressure issues with the pop-up conversion heads after turning down the valves as low as I could go before they started to chatter. I had to tie-wrap all the compression hose connections.
Our mix of citrus with native and non-native plants has created over/under-watering problems when trying to use drip on the 3 available valves. I have to hand water the Citrus Trees. Nothing new with irrigation…it's never perfect!
Pet Friendly
The crushed rock stays in place pretty good considering 3 dogs ripping over it at 50 mph. You only have to occasionally duck from a random stone flying at you.
The natural wood mulch stays in place much better than the decorative stuff we have in other areas of the yard. We'll see how it does with the coming 2015 El Nino.

Pet Terrain Disclaimers
I have included affiliate links to some Amazon products that we personally purchased and used. As an affiliate link, Pet Terrain will receive a few cents if you choose to purchase through our links. Thank you for supporting our blog!